May 1, 2023
---
RedSands Campers and Roev have signed an Memorandum of Understanding, which will result in the development of Australia's first fully electric 4WD camper. As experts in the 4WD hire market, RedSands will be working closely with Roev to supply data and specifications of the RedSands fleet, which will enable Roev to customise a fit-for-purpose electrification solution.
This is an incredibly exciting development and milestone for RedSands, as we embark on a strategy to de-carbonise our business and demonstrate offroad travel in an electric vehicle (EV) is not only possible, but a desirable mode of transport. As personal EV ownership around the world accelerates, so will the desire for people to travel and holiday in a sustainable way, in iconic self-drive destinations, such as Australia.
Our EV 4WD Campers will raise the bar for nature-based 4WD camping. Not only will they offer reduced running costs and reduced emissions, but they will also provide our clients with a much quieter and smoother touring experience, so they can enjoy the tranquillity of Australia's remote landscapes.
Although there is a cost associated with conversion, RedSands needs to consider its market needs and its responsibility to reduce greenhouse gas emissions. Over 80% of our clients come from Europe, where EVs are more mainstream and Governments are more dedicated to reducing greenhouse gas emissions from transportation. Our clients are demanding a more sustainable holiday experience and our EVs will offer it.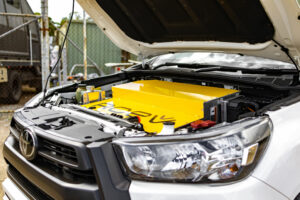 RedSands is also delighted to be partnering with G'Day Group on this project who have committed to install charging infrastructure at some of their iconic parks in East Kimberley, such as Lake Argyle Resort and El Questro Station. This project will support the WA Government's plan to create an electrified highway from the South Australian border to Kununurra and help to unlock Australia's North West for the EV market.
The first RedSands electrified 4WD camper is anticipated to be available for hire from July 2024.
If you would like to know more, please don't hesitate to get in touch with our Reservations team. If you like to keep up to date with the latest EV news, please fill out our contact form with 'RedSands EV' in the subject and we will add you to our mailing list.
"Our EV 4WD Campers will raise the bar for nature-based 4WD camping."