October 12, 2018
Camping in Australia is a soulful experience. The feeling of getting away from it all, of peace and tranquility can reset your mind.
Private beaches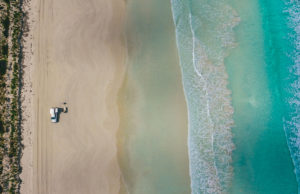 Who would say no to their own private section of beach? Sounds like something reserved for a celebrity or person with money to burn, right? Not in Australia. Just imagine, standing on the edge of the Indian Ocean and the warm breeze sweeps past your skin. You are standing in water so crystal clear and calm you can see the fish flash past your toes.  You look to the east and see rugged red ranges that contrast against the lilac sky at sunset. It sends a shiver down your spine. A turtle swims past and sticks its head up to see what is happening above the surface. It spots you and quickly ducks away before you have a chance to tell anyone else it is there. All this is yours when you stay at Ningaloo Station on Australia's Coral Coast. The only way to access this location is via a reliable and well equipped 4WD.
Deep gorges that dive into the earth
Feel like a hike? Ready for adventure and awe? Come with me….you turn off the sealed road onto a red track. The surrounding scrub is golden, yet green and the knotted trees with their white trunks offer shade and respite to the unique wildlife that have adapted to this landscape. You park your camper and start to make your way down the path and the earth appears to open up, to reveal its inner secrets. Red cliffs shoot down into the earth and you marvel at their layers and earthly colours. As you continue your hike you notice an oasis of running water, spectacular waterfalls, ferns, gumtrees, bats and birds. At the end of your short trek you come across Fern Pool, Karijini. This place is spiritual to Aboriginal People and it is easy to understand why. This place is best experienced very early in the morning, before the crowds. It is a quiet sanctuary like no other. Trust us, the early morning is worth it when you have this place all to yourself.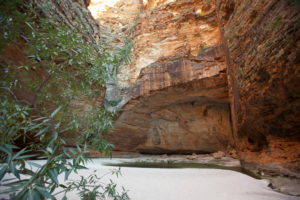 World Heritage
Undeniably one of the most amazing places on the planet lies in the Kimberley Region – ok, well perhaps quite a few are found here. This one is a little bit special and this description won't do it justice, but let us try…. you wake before dawn (with the help of some cheeky and noisy cockatoos) and make your way to the nearest church (huh? Let me finish). You are the first to arrive at the car park and follow the path that winds through spectacular beehive formations to this spiritual place. The sight stops you dead in your tracks. You feel overwhelmed. Mother Nature is an amazing artist and gave special attention to Cathedral Gorge, Purnululu. This place is so ancient it makes you realise how tiny a blip our lives are in the context of this world. They say you should enjoy every minute you have on this planet. We are sure you will want to stay here a while to enjoy quite a few of those minutes.
Not just any camper
The only way to get to some of our favourite places is a 4WD. We have camped for many years, visiting all of these places many times. It doesn't mean we have 'done it rough' though. You just need to have the right equipment and be prepared, and camping turns into the most relaxing holiday you've had.
There are not too many campers that come as well equipped as a RedSands Camper. Our fleet of Toyota 4WDs are designed to be easy to use, quick to set up and have all the comforts to make your trip a pleasurable and memorable experience. If you would like help planning your itinerary, please let us know. We are always happy to help our clients get the most out of their Australian experience.
This place is so ancient it makes you realise how tiny a blip our lives are in the context of this world.